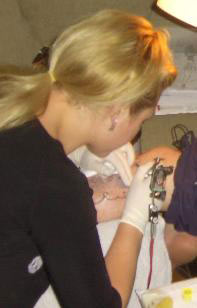 Kick'Em Jenny
Jenny is an old friend of mine ,she started as designer...but when I meet her
( about 15year ago) she worked in a friend studio in Rome (My Way Tattoos by Paolo Monaco). She was about 16, not old enough for Ink...Just taking appointments & drawing stencils..
When old enough she moved to England & then to the Netherlands
(were she got her first tatt2 by Errol at the Inkstitution,Rotterdam)...
but never went back to the tatt2 thing ,more like starting her own clothing line ,
but we always stayed in contact.
About one year ago ,we meet again on a festival ,and she really begged me
to teach her something about tattooing .
After a wile I contacted back & she practically moved from Rotterdam to Caserta.
After months working hard in my shop..few Chinese letters & fill up tribals
I decided was time to present her 2 tattoo machines , some Ink.....
.....Well all she needed to give her new passion a 'Go'.
Here some of Jenny's work...Jenny will be coming & going from Rockin'Ink this spring...chek back for new pix!